Maui is a beautiful place for a vacation. The webmaster visited in 2004 with his wife and two year old for our anniversary and her birthday. The number of things to do on Maui is a bit overwhelming at first but with some careful planning you can enjoy almost everything in one trip. Here are some general tips and opinions: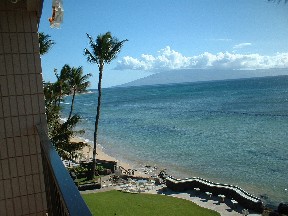 Avoid the time share pitches - Let's face it, you may have worked 1-2 years for this vacation. Do you really want to spend 1/2 a day getting pressured to buy something so you can get that discount ticket to Molokini for snorkeling or to that special Luau? This may seem like a good deal in your everyday life on the mainland, but your time is worth much more on your vacation! If you are interested in buying a timeshare there are presentations within driving distance of anywhere in the country and the perks are usually a good weekend getaway rather than a discount ticket to an attraction!
Luaus - Make your decision and reservations early as some of the more popular Luaus sell out pretty quickly. Also, arrive early to get a good seat. We went to the Royal Lahaina Luau and were pretty happy with the show.
Snacks and food - Everything on the island is expensive. Take a trip to your local supermarket for snacks and other food items and pack them with you (not fresh fruits or vegetables as they may be confiscated). This is good in two ways as you will save money on not buying things in the stores or at a cafe and you will have plenty of room to bring back those souvenirs!
Below are some sections which I thought may be of interest to the traveler to Maui. We certainly enjoyed our trip and intend to return once our daughter is a little older.